Crazy date with the boyfriend today !!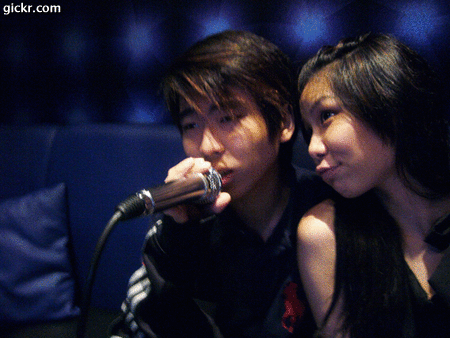 We sang K from 2pm to 6pm. And believe it or not, we're into our eleventh month and today's the first time we sang together. Sang at TopOne, which was located at where Icon used to be. It seems like the whole building belongs to the KTV.
But anyway, for only $16 per pax, we'll get to enjoy free flow of drinks (big glasses of them) and members get to have a bowl of snacks in addition. BUT, it seems like they don't have the latestlatest songs available, like yang cong >:(
Then we had braised beef feast at LaiLai Family Restaurant at Liang Seah. And seriously, i'm totally addicted to bubbleteas. Been drinking at least a cup a day since i started working at Isetan Scotts. So much so that the lady recognizes me and i don't even have to queue all the time, haha ! Mango greentea ftw yo !!
After dinner, we decided to catch Shutter. Remember the Shutter featuring Ananda Everingham waaayy back in 2004 ? Yea, it's a remake of the 2004 film so it's EXACTLY the same except that it's featuring western casts this time round. Was being a major spoiler by whispering what's gonna happen next to the boyfriend throughout the whole 90mins. And i swear that Baby would punch me in the face if not for i'm his precious girlfriend (:
Last but not least, do me a tiny favour by checking out the two adverts on http://missfayne.blogspot.com yea ? One is bout Youth Aids and the other is bout Mount Power .